In the little community of Agunnaryd, deep in the forests of Småland, furniture-making and cabinet-making have a very long history. This also applies to stair production at ATAB-Trappan AB. The foundations were laid as long ago as 1924, when Karl Magnusson and his family moved into the district. Karl Magnusson was an experienced joiner who was to build a number of houses in the area and also found time to help local farmers with various kinds of joinery jobs, including making stairs At some time early in 1950 Karl Magnusson bought the property known as Liljeholm, where he built up a joinery works. His most important products were stairs, windows and doors. This is the place where ATAB's modern facilities are situated today.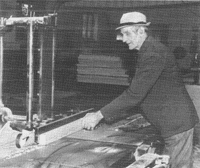 In 1954, Gösta Magnusson took over the business from his father. He began with three employees making kitchen fittings. From 1962 the emphasis shifted steadily to making stairs, and the business was renamed "Magnussons Trappsnickeri".
In 1972 the business was taken over by Frid Lidfors, and the name of the company was changed to "Agunnaryds Trappfabrik AB". The period up to about 1980 was an expansive one in the industry and new stair manufacturers appeared all over Sweden. But housebuilding slowed down and many of the. 240 or so stair makers in Sweden had to turn to other products. Agunnaryds Trappfabrik looked overseas and the first tentative steps in the notoriously difficult German market were taken in 1982. High quality, responsiveness to the market and competitive prices enabled the company to become better established in Germany than most, and in the early 1990s as many as 80 staircases made to special order were being sent every week to our southern neighbours. As the German market began to show signs of saturation, work began on building up contacts with a number of other new markets outside Sweden.
In 2002 ATAB-Trappan AB, as the company was now named, was taken over by four of its employees. ATAB-Trappan AB was by now successfully established not only in Sweden and Germany, but also in Denmark, the UK, Austria, Russia and Japan. The recipe for success was the same as it had once been in Germany, i.e. quality and market intuition, to which could now be added "design and personality". An individually designed staircase finds its purchaser, whatever the market.
ATAB-Trappan AB looks forward with confidence, pleasure and anticipation to another 80 years of successful growth, with a respectful continuation of Karl Magnusson's legacy of furniture craftsmanship.