A staircase doesn't just consist of its essential components, materials and finish. To enhance your stair design, or perhaps to make it even more of a pleasure to use, there are a number of different optional extras and special features which can sometimes be used.
A small selection is presented below.
Bullnose
The first and sometimes the second stair extended and rounded outside the strings.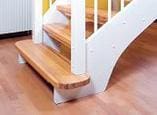 Treads with rounded front edges
All or some of the treads harmoniously widened in the centre.

Decorative beadings on front edge of treads
Metal beadings on the treads to create an attractive contrast.

Profiled nosing
Different profile to the front edges of the treads.


Non-slip groove
Non-slip groove Groove. 3 mm, as decoration and to prevent slipping.

Curved newel post
Harmoniously rounded corner connections for strings and/or handrails, which can be used instead of corner posts.